Update profile
To update your profile, you must click on the three horizontal line icon on the top right, next to your profile, and then click upon the first option, 'Update Profile' (first image). Here you can create your bio, enter your email to secure your account, or change your password if you want.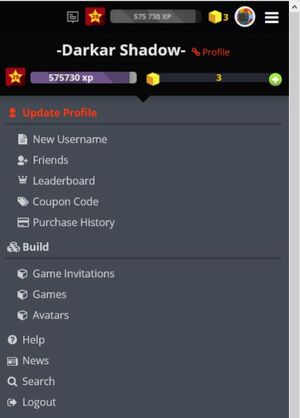 Click on Description, and write anything you want about yourself. However, it is advised that you don't write personal things about yourself! When you're done, click on the red button under the Description part that says "Update". With the grey button "Cancel", you can reset any changes to your bio.
To improve your accounts security, use a strong password! You can do it by choosing signs, mixing uppercase and lowercase letters, numbers, etc. Write first your Old password which you don't want to use anymore, and then the "New password" which you will be using to log into your account from then on. Now write your new password again on "New password (repeat)" and then click on the red button named "Update password".
You should NOT forget your password, so you can write your email in the section called "Email", and then click on the red button named "Send confirmation email?". Follow instructions in the email message you shall then receive from support@kogama.com to verify it. If you have done that correctly, now you will have your email linked to your account.
Recently, the option to choose your birthday was added. You can also update it here, if you skipped that before. Content will be shown to you according to your age.