As part of the Unified Community Platform project, your wiki will be migrated to the new platform in the next few weeks. Read more here.
Midnights Hallow (event)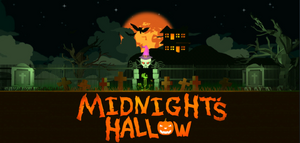 Midnights Hallow was the KoGaMa Halloween celebration of 2018. It lasted from October 18th, to November 1st, 2018.
Midnight's Hallow Contest: 5 winners submitted an avatar that resembled the Halloween's spirit, and each of them won 1000 gold.
Limited particle: The new accessory had the shape of ghosts.
Limited theme: The sun and moon had the face of a Jack-o'-lantern.
Limited Badge: Midnights Hallow 2018. The code was MidnightsHallow2018.