As part of the Unified Community Platform project, your wiki will be migrated to the new platform in the next few weeks. Read more here.
Frost Festival (event)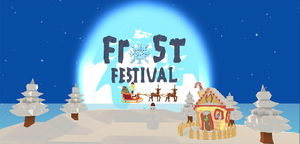 Frost Festival (also named Frostival) was the KoGaMa Christmas celebration of 2018. It lasted from December 5th, 2018 to January 2, 2019.
A limited badge obtainable via coupon code: Frost Festival 2018.
A limited accessory that resembled a Candy Cane.
A limited hat: Antlers.
A limited particle effect: Shimmering.
A new theme.
Two new songs in the Global and Local Speakers: Winter Wonderland and Spirit of The Frost Festival.
A model contest. 5 winners were announced December 21, 2018. Each one won 2000 gold.